Hey guys! Can you believe I've been using WordPress for a year now??? To celebrate, I'm doing the Mystery Blogger Award, which I was tagged for by Brittany @ Perfectly Tolerable way back in December…oops. 😛 So thank you, Brittany! Sorry I took forever but I'm finally getting around to it now! XD Also I'm sorry this was originally supposed to go up on Tuesday, but life got in the way again and I just decided to postpone it since I didn't have time to finish it. Hopefully soon I can find my rhythm with blogging and everything again. I feel like since December I've been getting burned out in everything so easily and my whole life has gotten out of whack. XD But anyway, on to the award!
Also I think this was created by Okoto Enigma, but the link isn't responding to me so Idk?
RULES:
Put the award logo/image on your blog
List the rules.
Thank whoever nominated you and provide a link to their blog.
Mention the creator of the award and provide a link as well
Tell your readers 3 things about yourself
Nominate blogs you love
Notify your nominees by commenting on their blog
Ask your nominees any 5 questions of your choice; with one weird or funny question (specify)
Share a link to your best post(s)
Three Random Facts:
Sometimes I get carried away with remembering scenes from a book or movie and imagining conversations in my head for writing or practicing for social interaction and I end up making really weird facial expressions…in public. XD I swear I'm not crazy!
I really have liked getting into watercolor painting recently. Mostly for my bullet journal. 🙂
And uhhhhh I like eating fries the best by themselves with lots of salt. No ketchup or anything. Though it's not that I don't like ketchup. I just like it on a burger better. Oh but sometimes I'll dip my fries in ranch which is really good! …That one was really random. XD
Brittany's Questions:
1.What popular book did you not like?
Ugh Shatter Me. I really did not like it.
2. Do you read one book at a time, or several?
Several. Though I read slow and am having a hard time keeping up on my Goodreads goal so I might try focusing on one book at a time again? At least a little bit when I feel like I need to.
3. Do you read while you are: Eating? Taking a bath? Watching TV? Listening to music? On the computer? On the bus?
I don't snack much while reading, but sometimes. Snacks like popcorn, cookies, candy, and goldfish crackers are good. Our bathtub is too small so I only take showers. And no I won't take a book in there. XD I used to read sometimes during commercials, but I don't really do that anymore. I like having background music while I read, especially if it fits with the feel of the book, and I don't know how I would read while on the computer unless it's an audiobook, which I do sometimes. 😛 Public transportation isn't common where I live. And though I really like reading in the car, I don't have as many opportunities to since I got my license last year.
4. Who Would You Cast in the Film Adaptation of your favorite book?
I have no idea. XD I hadn't really thought about fan casting my most recent favorites, and my favorites that have already had adaptations, like The Hunger Games, I think they did a pretty good job with so…IDK. 😛
5. Silly Question: If animals could talk, which would be the rudest?
Ummmmm…Seagulls! I'm obviously stealing this from Finding Nemo but whatever. XD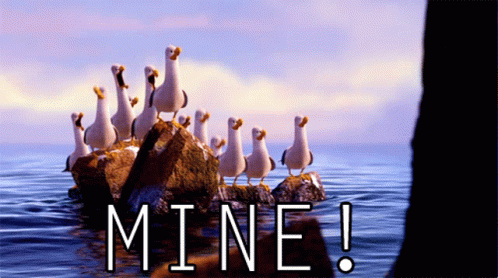 My Best Post:
I'm pretty sure my best post is Why I Don't Read ARCs. People really seemed to like it. 😛
I Nominate…
My Questions:
What's you favorite book from your childhood?
Are there any books similar to movies/tv shows you've loved that you'd recommend?
What's the last song you listened to?
What's the most courageous thing you've ever done?
(Silly question) Which is better, ice cream or fro-yo? I'm a classic ice cream person all the way! Fro-yo doesn't taste nearly as good and I don't understand why most seem people to think it's better. XD
All credit goes to the authors of the images.
What Do You Think?:
<a href="https://www.freepik.com/free-vector/blue-christmas-card-in-watercolor-style_816724.htm">Designed by Freepik</a>
Credits/Questions:
<a href="http://www.freepik.com/free-vector/soft-background-with-a-cute-blue-watercolor-stain_1064674.htm">Designed by Freepik</a>
Featured Image:
Background vector created by freepik – www.freepik.com
Brittany's Blog: